A bittersweet treat perfect for a fall gathering.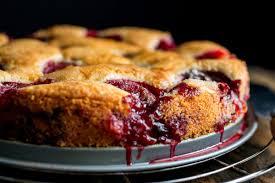 Ingredients
---
3/4 to one cup of sugar
1/2 cup unsalted butter, softened
1 cup unbleached flour, sifted
1 teaspoon baking powder
pinch of salt (optional)
2 eggs
24 halves pitted purple plums
sugar, lemon juice and cinnamon, for topping
Directions
---
Heat oven to 350 degrees.
Cream the sugar and butter in a bowl. Add the flour, baking powder, salt and eggs and beat well.
Spoon the batter into a spring form pan of 8,9,10 inches. Places the plum halves skin side up on top of the batter.
Sprinkle lightly with sugar and lemon juice. Sprinkle with cinnamon.
Bake 1 hour approximately. Remove and cool, refrigerate or freeze if desired.
Share!
---
Reviews
1
---
NancyG
0
---
September 13, 2020